Back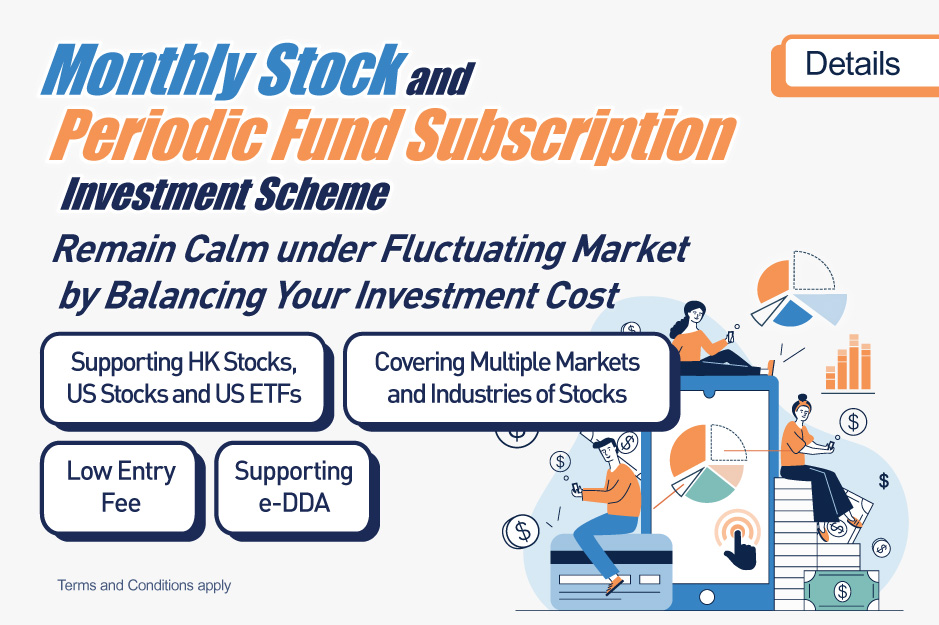 Monthly Stock & Periodic Fund Subscription Investments
Activity Details
Low entry fees, High investment flexibility
Speedy financial management, supports e-DDA payments
A variety of Monthly Stock Investments and Periodic Fund Subscription Plans
「Designated funds enjoy HK$0 subscription fee discount*」 Terms and Conditions:
Promotional period: From 24th March 2021 till further notice.
This promotion is only available to Hong Kong customers who are aged 18 or above.
Some specific fund products listed on the promotional page are offered with HK$0 subscription fees. Customers can view on their own the detailed terms and conditions of the relevant fund products.
Free handling fee for each deposit of HK$100 or more by e-DDA. Fees are subject to change without notice.
In the case of any suspected fraud, violations of any regulations or inappropriate behavior by the customers, uSmart Securities Limited reserves the right to take any necessary legal actions to recover rewards that have been deposited or paid to the customers and to claim for any losses arising from such behavior or violations.
The promotion is subject to the terms and conditions stated above, and the rewards can only be obtained once the above conditions are fulfilled during the promotional period. Customers who have any enquiries are welcome to contact our sales and customer service team at +852 3018 4526.
The information and the terms and conditions contained in the advertisement and/or website above, are for reference only, and does not constitute as any offer, invitation, solicitation, opinion and/or any guarantee to deal in any securities, funds, financial products and/or any other instruments. The prices of securities may increase or decrease and before you make any investment decisions, you should seek independent professional financial advice.
Risk Disclosure and Disclaimer:
The above promotion is governed by all the relevant terms and conditions. uSmart Securities Limited ("uSMART") reserves the right to amend or cancel the promotional offers at any time without prior notice. Should any disputes arise, the decision of uSMART is final. Investors should note that investments involve risk, prices of funds and financial products may go up as well as down, and Investors should read the relevant investment offering documents and terms and conditions (including the full text of the risk factors stated therein) in detail before making any investment decisions, and should seek independent professional advice before making any investment decisions. Information provided herein are for general information and reference only and does not constitute nor is it intended to be construed as any professional advice, offer, solicitation, or recommendation to deal in any investment products or tools. This webpage is provided by uSMART and its contents has not been reviewed by the Securities and Futures Commission of Hong Kong.