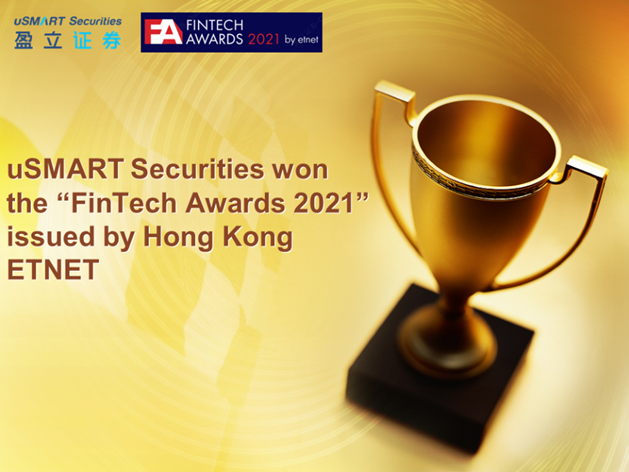 28 January 2022, Hong Kong - uSMART Securities Limited won the "FinTech Awards 2021 in Big Data – Outstanding Smart Investment Mobile App" issued by Hong Kong ET Net, recognized by authoritative institutions and the industry again.
Hong Kong ET Net, as a member of the Hong Kong Economic Times Holdings Limited, started its business in 1994, providing timely and comprehensive financial news and real-time quotation information of stocks, funds, and foreign exchange for amounts of financial institutions and investors. At present, Hong Kong ET Net is a leading electronic financial information supplier and has a position of leadership in financial services industry.
The annual "Fintech Awards" was initiated and hosted by Hong Kong ET Net, and has been held for five consecutive years. Nowadays, it has become one of the most authoritative and influential awards in the field of financial technology in mainland China and Hong Kong and received strong support from all sectors of society including Hong Kong Cyberport, Hong Kong Science and Technology Parks Corporation, Ernst & Young, KPMG, Business School of the Chinese University of Hong Kong.
With the theme of "Building a Brighter Green Future Together", "Fintech Awards 2021" selected outstanding companies within 18 major categories in various professional fields to recognize their achievements in financial technology and benefits to consumers, the industry and society. And its judging panel consists of professionals in financial technology and communication technology, with members come from relevant industry and professional associations, companies, educational institutes and government bodies. What's more, the judging criteria of "Fintech Awards 2021" include innovation & creativity, functionality, impact, benefits and marketability. In addition, Hang Seng Bank Limited, China Construction Bank (Asia), The Hongkong and Shanghai Banking Corporation Limited and Atome HK Limited were also awarded "2021 Fintech Awards". Therefore, this honor indicates that the society and industry have great appreciation for the outstanding and dazzling performance in 2021 of uSMART Securities Limited in terms of business value and financial technology innovation capabilities.
Positioned as smart learning community and brokerage firm, uSMART Securities Limited is regulated and licensed by The Securities and Futures Commission of Hong Kong, with Type 1, 4 and 9 regulated activities (CE number: BJA907). Meanwhile, uSMART Group, the parent company of uSMART Securities Limited, also holds Singapore CMS license and a New Zealand FSP license.
In terms of community, the APP of uSMART Securities Limited has a section named uFinance for investors to communicate with each other.
As for the investor learning, uSMART Group also launched its investment education platform named BeeRich, which is committed to building an online media platform for investors to learn investment knowledge with well-known financial experts and KOLs at home and abroad.
In the aspect of smart investment, the APP of uSMART Securities Limited also has a lot of professional investment functions such as smart Diagnosis, smart Analysis, and smart Strategies, bringing a better and simplified trading experience to its customers.
- END -